I am posting here this link intended to increase traffic on each others' blogs and to extend this friendship link to around the world. I copied this from another blogger and I am tagging you all to do this and expand this link further. Thank you so much and God bless you all.
* start copying here *~
Join the Worldwide Link Love!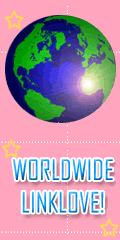 Benefits of Worldwide Link Love!
1. Make new friends around the world.
2. Feel the Link Love.
3. Gain new readers and subscribers.
Rules:
1. Copy from ~* start copying here *~ to ~* end copying here *~ and paste it on your blog.
2. At the end of the list, put your name and the country your in, it doesn't matter what's your nationality just put the country where you are publishing your blog. Dont forget to put links at your name.
3. If u have many blogs, you can link all of it, just make sure you post the same on each blog.
4. Tag eight or more of your blog friends.
5. Tip for blogspot* users: make sure you copy and paste the code in Compose mode.
6. Wanna join, and you can't find your name on the list? Just leave a comment here
Worldwide Link Love! Participants
1. Julia (Philippines)
2. Blog Tambayan (Philippines)
3. Mind Relaxing Ideas (Philippines)
4. BROOD Online Portal (Philippines)
5. The Blog Reviewer (Philippines)
6. The Good and The Bad News Around Us (Philippines)
7. Pagod Ka Na Bang Maging si Juan? (Philippines)
8. Ordinary People, Ordinary Day (Philippines)
8. Catherine (Malaysia)
9. Make Money Online (Philippines)
10. Saving Lives, (Minneapolis, United States)
11. New York Renovator, (New York, United States)
12. Entrecard Favorites (New Jersey, United States)
13. Hulag (Iloilo City, Philippines)
14. Roxiticus Desperate Housewives (New York, United States)
16. Mariuca's Perfume Gallery (Petaling Jaya, Malaysia)
17. The Buzz (Auckland, New Zealand)
18. New York Traveler.net (New York, United States)
19. The Sewing Mom (Texas, United States)
20. Back 2 the Land (Washington, United States)
21. Eleanor Blog (Scotland)
22. Freaky Frugalite (New York, United States)
23. Robin's Woods (Washington, United States)
24. Daisy the Curly Cat (Florida, United States)
25. Make Money Online for Free (Florida, United States)
26. Prove Me Wrong (Metro Manila, Philippines)
27. Happierlife (United States)
28. Mountain Dewknight (Colorado Springs, United States)
29. Bec's Life (Melbourne, Australia)
30. Personal Finance Management Guide (Brewster, United States)
31. Joshuaongys (Kuala, Lumpur Malaysia)
32. Technology Blog and More (Florida, United States)
33. tumawa k kabayan(san mateo, california United States)
34. mckhoii- The Fag Authority(Baguio City Philippines)
35. 3POINT8 (Subang Malaysia)
36. REENASHWINA(Penang Malaysia)
37. saphrym-The mind is a terrible thing to close.(Maysville, KY United States)
38. Michael Aulia's Tech Blog(Melbourne Australia)
39. Scramories-Scrapbooking for others(North Carolina United States)
40. Successful Affiliate Marketing Strategies(Montreal Canada)
41. Scott's Space(United Kingdom)
42. Henry's World (North Carolina, United States)
43. Mel Avila Alarilla (Philippines)
44. Points of View (Philippines)

~* end copying here *~